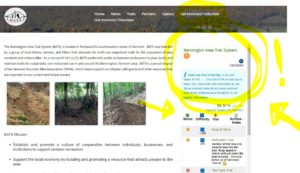 So, we got a lot of rain. We closed the Cave Trail for now. Our BATS volunteers (or maybe just Todd?Thank you!) are out assessing the conditions/fixing what they can saying, "all you can hear is the running water up here." Give Trails another day or so to dry out. The BATS Trail Conditions on Mt. Anthony are updated on Trail Hub, which shows on our Home Page (batsvt.org), or Download the App and get alerts. Know before you go. 
BATS TrailHub Trail Conditions
Ask us how to Volunteer or becoming a Member so we can keep our trails sustainable and ready for action after these sheeting rain events.
BATS Trails are searchable on TrailHub under Hiking, Mountain Biking, Trail Running, Recreation Paths, and Snowshoeing- But just bookmark it, or sign up, or get the APP, or check our homepage. Or use common sense before going out after 3″ of rain. =)