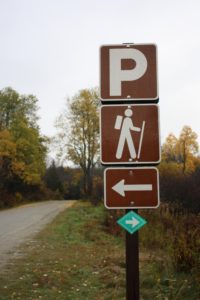 If you care about outdoor recreation in Southern Vermont we hope to see some BATS members/Bennington area outdoor recreation supporters in Arlington for this VT Outdoor Recreation Economy Collaborative Regional Summit.
For those who cannot attend an in-person meeting, an online survey will go live on September 12th on the FPR webpage at www.fpr.vermont.gov/VOREC ,   where you can also learn more information about this initiative. If you have any questions or need special accommodations, contact Jessica Savage, Recreation Program Manager at the Vermont Department of Forests, Parks and Recreation, 802-249-1230, Jessica.savage@vermont.gov.
---
Background about VOREC from our parent organization, the Vermont Mountain Bike Association, who helps us be able to build, maintain, and support volunteer work on our multi-use trails:
VOREC will be hosting seven regional summits to learn more about the public's perspectives on what the steering committee should recommend to the Governor as the next best steps for Vermont AND Vermonters. VMBA encourages you to attend as many summits as you can and to keep the following items in mind:
All types of recreationists are welcome in this conversation (ATVers, anglers, birders, hunters, snowshoers, equestrians, etc.)
Show up in force, be polite, patient, concise, and open to collaborating with new kinds of partners.
___________________________________
Full Regional Summit Schedule:
Tuesday, September 12th: The Best Western, 45 Blush Hill Rd, Waterbury, VT 05676. 6-8 pm.
Monday, September 25th: Island Pond Town Hall, 49 Mill St, Island Pond, VT 05846. 6-8 pm.
Tuesday, October 3rd: Community College of Vermont, 60 West St, Rutland, VT 05701. 6-8 pm.
Tuesday, October 10th: City Hall, 100 North Main Street, St. Albans, VT 05478. 6-8 pm.
Monday, October 16th: The Evening Star Grange 1008 East-West Rd, East Dummerston, VT 05346. 6-8 pm.
Monday, October 23rd: Hartford Town Hall 171 Bridge St White River Junction, VT 05001. 6-8 pm.
Tuesday, October 24th: The West Mountain Inn, 144 W. Mountain Inn Rd, Arlington, VT 05250. 6-8 pm.
___________________________________
Quick backstory: The state led Vermont Outdoor Recreation Economic Collaborative (VOREC) was launched in June through an executive order by Governor Scott. A steering committee of 15 people appointed by the Governor, including VMBA's executive director, has been assembled.
A primary charge of the group is to strengthen stewardship of outdoor recreation resources and the organizations that support them.
__________________________________
Talking Points to Consider – encourage VOREC to put forth recommendations that strengthen stewardship of outdoor recreation resources and the organizations that support them.
For example:
Shift private land use regulations in a way that supports more access for local chapters to expand your trail networks
Develop state driven funding mechanisms that reflect Vermont's economic growth attributed to the trails.
Create state land, long-range trail expansion commitments to Vermonters to proactively absorb growing levels of mountain bike ridership.
It is critical that we show up and share our thoughts. What gets logged at these meetings will get attention and change that better support trails will follow. Please share this with your members and neighbors so they can attend.