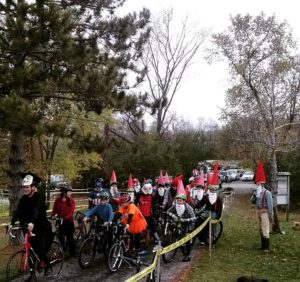 Calling BATS members, fellow trail fans, bike lover, and community members! Volunteers needed for The Wicked Creepy Cross Race. The Wicked Creepy CX is in it's 11th year. Held at Willow Park, it is a really fun setting and a great community event. See the flagging, posts, and stairs in the photo? They don't just get there by themselves!
Volunteers needed in larger numbers to set up the day before (10/28) from mid-morning to sunset.
Some volunteers needed race day during the day, and especially for take down. Races begin at 8:15 am and the last race starts at 3pm.
PLEASE contact Race Director, Tim Payne if you can help. payneposse@comcast.net 
The Wicked Creepy is part of the NYCross series. Learn more about this race below, or heck, go watch/race in a few!
https://www.bikereg.com/wicked-creepy-cyclocross-race-part-of-the-nycrosscom-series