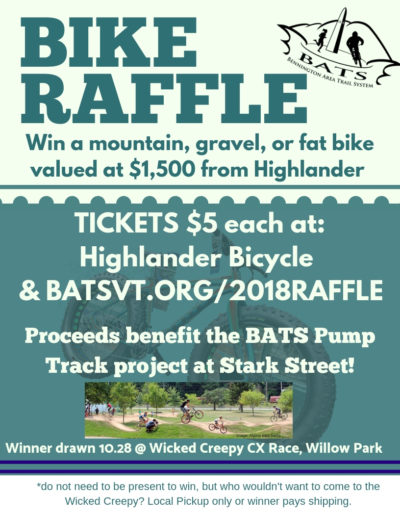 Help us fundraise to build the pump track at Stark Street Playground
A $5 ticket could Win  a gravel, mountain, or fat bike bike valued at $1500 from Highlander Bicycle!
Buy tickets online or at participating locations:
Join BATS as a VMBA chapter member and receive a FREE bike raffle ticket! Buy additional raffle tickets for $5.
Winner will be announced on Sunday, October 29, 2018 at the NY Cross Wicked Creepy CX Race at the Willow Park in Bennington. If you live out of the area, winner is responsible for all shipping costs.
Buy Your Ticket with Paypal!
BATS membership runs from April 1- March 31st, so act soon to make the most of it. Individual and Family Memberships. The money we receive goes back to the trails. Membership perks other than knowing you support trails: $3 pints at Harvest Brewing., 10% off service and 15% off in-stock non-sale clothing at Highlander Bike Shop, and trail pass discounts nearby (like at Grafton Trails in Grafton, VT)
You don't have to be a mountain biker to join BATS. We maintain the trails for running, hiking, and other non-motorized use. We value our parent organization , VMBA, for all their support in helping us provide volunteers with training, helping us with landowner agreements, liability insurance, grants, and so much more.
Take a more active role in our organization, especially if you use the trails- we promise you'll be happy you did! In the meantime, win a bike and Happy Trails!
#BATSVT