J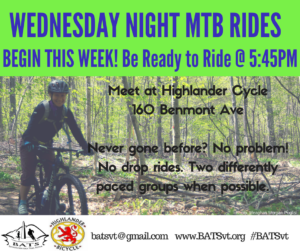 oin Bennington Area Trail System (BATS) members on a group mountain bike ride on Wednesday nights beginning Wednesday, May 25 and continuing throughout the summer and fall if there is interest. We will depart from Highlander on our mountain bikes to official trailhead access points and ride until the ride is done.
Time:  5:45PM- Be ready to ride
Where: Meet at Highlander Cycle (160 Benmont Ave) in Bennington
BETA:  Helmets required.If we have enough folks, and some newer mountain bikers, we will split into smaller groups/different paced rides. Beginners welcome!
Après: 

Harvest Brewing. Bring your 
BATS membership VMBA card, and big grin. They said they don't mind if we smell… Thanks =)
Consider volunteering with BATS on a trail maintenance day (we post those on our Facebook Page) AND PLEASE become a member of BATS which helps us get funding for projects!  We are working on a signage and interpretive panel/map so we can appropriately educate users. BATS isn't possible without your membership, without volunteers, nor without cooperating landowners and trail users that are respectful.
Friendly Reminders: Check our Homepage (or download the Trail Hub App) for up-to-date trail conditions. Remember it's still turkey season, and if you see active forest management on SVC property, please give the professionals working hard some space!
Our mission is:
Establish and promote a culture of cooperation between individuals, businesses, and institutions to support outdoor recreation
Support the local economy by building and promoting a resource that attracts people to the area
Improve community health by getting people to be active outdoors