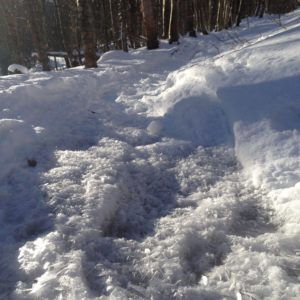 Winter is upon us.  Here are some trail use tips and etiquette we hope users of any trail in the Bennington area and beyond keep in mind while using trails during this fragile time.
Early winter with all it's temperature fluctuations can be just as bad as mud season (~April-May) in which all trail organizations in Vermont encourage users to recreate on dirt or paved roads instead.  Freeze and Thaw cycles can be wreak havoc on trails.
Using trails that are muddy can create ruts, widen the trails (go through the mud/wear waterproof footwear), damage vegetation, and take MANY more hours for someone to fix than if you did not go to begin with. Using trails that are icy creates impacts too, especially if you aren't prepared because people widen the trails, compact the snow/ice, which affects plants and soil once everything thaws, and can create erosion problems.
Winter/Mud Season Trail Use Tips:
Plan Ahead and Prepare! Check the BATS website for Trail Conditions Updates on the Home Page
Use trails before they warm up (before 10am)
If the temperature outside is warm-ish AND it rained,  you should AVOID using trails until they dry out.
If it snowed and the snow is melting, the trails are probably muddy and icy and need to dry out. Seek an alternative activity, or use a drier trail / trail network/find a great dirt road.
If you are on a trail that is typically dry and come across mud spots
a) go through the mud (waterproof shoes!)      b) turn around
If you are on a trail in the shade, and it snowed at some point, you may find the whole gamut:  ice, snow, & mud
Invest in appropriate footwear or footwear traction devices (ex: YaxTrax, IceTrekkers, microspikes, snowshoes from a friendly local footwear or gear shop) so you Stay On the Trail.
Use Common Sense
Many people enjoy snowshoeing on the BATS system.  If you don't know the terrain, stick to established trails.  There is definitely room for exploration on the BATS Trails in winter, but be mindful that Mt. Anthony has many rock faces and steeper areas. Go off-trail at your own risk, and be prepared before you go. Bring a headlamp and extra clothing layers. It gets dark early, and snowshoeing is hard, so you may be out longer than you expect.