The Bennington Area Trail System (BATS) is located in the beautiful southwestern corner of Vermont.  BATS was founded by a group of local bikers, runners, and hikers that advocate for multi-use singletrack trails for the enjoyment of area residents and visitors alike.  As a non-profit 501 (c)(3), BATS works with public and private landowners to plan, build, and maintain trails for sustainable, non-motorized use in and around the Bennington, Vermont area.  BATS is a proud chapter of the Vermont Mountain Bike Association (VMBA), which helps support our chapter with grants and other resources that are important to our current and future success.
Mission
The Bennington Area Trail System's mission is to build and steward trail systems that support human-powered outdoor recreation opportunities, while cultivating a culture that values outdoor recreation, community health, and a recreation economy in southwestern Vermont.
The goals of the organization are to:
-Establish and promote a culture of cooperation between individuals, businesses, and institutions to support outdoor recreation on local trail systems
-Support the local economy by building and promoting a resource that attracts people to the area
-Improve community health by getting people to be active on outdoor trail systems
ORGANIZATIONAL HISTORY
BATS was formed in the summer of 2015 by a dedicated group of mountain bikers, hikers, trail runners, and overall outdoor enthusiasts who recognized the amazing yet largely untapped potential that the southwestern Vermont landscape presents to trail enthusiasts. In the fall of 2015, BATS signed its first Land Access Agreements with Southern Vermont College (SVC) and a neighboring private landowner, and constructed its first trail, Hops & Vines.
In 2016, BATS established additional Land Access Agreements, worked in conjunction with SVC students to hold our first annual 'Trail Mix' season kickoff event and construct this website, built an additional ~4 miles of trail, co-hosted the 10th annual Wicked Creepy Cyclocross Race, and laid the groundwork for an even more ambitious 2017, which includes expansion of the trail network on and around Mt. Anthony, and hopefully beyond – Please support us in our efforts! 
BATS Board of Directors
If you have interest in coming to a meeting, or having more input and involvement, please let us know. We'd love to have you come to a meeting or help with a project. Please contact us at [email protected].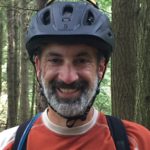 Brad DeBoer- Board President
Brad DeBoer moved to Bennington one year removed from college and took up mountain biking shortly thereafter under encouragement from his then girlfriend (now wife) Dwalin. Brad and Dwalin, now joined by sons Callum and Tyler, spend as much time as possible outside hiking, biking, skiing, swimming and rowing. Brad is an Energy Efficiency Consultant by day, and in addition to his work with BATS also coaches youth Nordic skiing and lacrosse.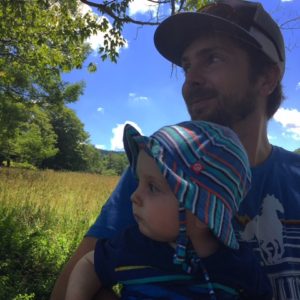 Jared Newell- Secretary, & GIS Specialist
Jared grew up in the Berkshire Hilltowns of Western Mass just south of Bennington.  After circling around from Upstate NY, to Colorado, Utah, and Boston, he settled in Bennington in 2012. Through his travels he saw how outdoor recreation can sustain and grow communities, and helped form BATS in 2015. He lives in Bennington with his wife Caitlin, and future rippers, Jackson and Alys.  As a GIS (Geographic Information System) professional, Jared does the mapping and trail design for BATS.
Donald is a very helpful, community and conservation minded individual, with roots to the land here in Southwestern Vermont. BATS is lucky to have him on our Board.
Photo: Caleb Kenna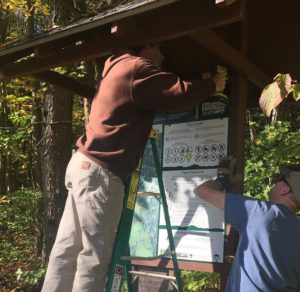 Jon Rowe- Board Member and Jack-0f -All- Trades (who rides his bike all the time)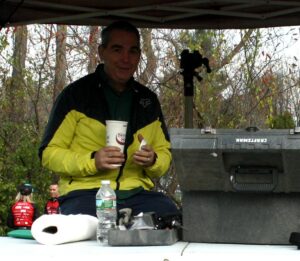 Peter Hall- Board Member
Peter owns the local bike shop, Highlander Bicycle, and if you haven't been there, well, what are you waiting for?
It is SO cool inside!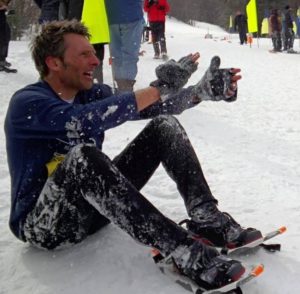 Tim Van Orden- Board Member and Running/hiking/snowshoeing expert and advocate
Tim also works to promote athletic events such as the National Snowshoe Championships held in Woodford, VT.