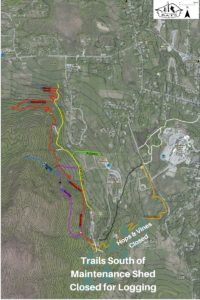 Logging is currently happening along "Hops and Vines" on Southern Vermont College property and near"Down N' Up" on a cooperating landowner's property South of the upper SVC parking lot and maintenance shed. Please avoid using trails in those areas. More logging is expected to take place on SVC property and on land South of the maintenance shed this winter.
We will update you if we learn of new spots where logging is occuring, but please use caution and check the website for our Trail Conditions update on the homepage, directly on TrailHub, or on Facebook so you know before you go!
Thank you for your cooperation in our efforts to respect landowners who have granted us access.
The Trail Map is located here.