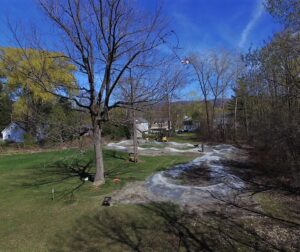 Stay tuned to website Home page, News posts, Facebook, and Instagram for updates, or sign up for our occasional E-News to get involved! Besides SUPER VOLUNTEERS, we are still seeking donations of landscaping plantings, or material to make benches. We raised about $1,000 from the bike raffle, in addition to the VMBA grant we received!
Accessing the Pump Track
We encourage you to walk or ride to the park from a downtown location to keep the parking and neighborhood congestion-free. We can't wait to see people enjoy riding their bikes on the pump track, then hitting the trails!

Thank You's
A heartfelt thank you goes out to
Tom Lepesqueur and Daughters
on the build, our super volunteers for helping Tom, to the Town of Bennington for their flexibility and understanding our vision,  Vermont Mountain Bike Association for the VMBA Grant, and W.E. Dailey's for the materials!