Wow! So it was hot out, and now it's fall again. Just a friendly reminder that hunting season starts on 10/7. See our tips at the bottom for more information.
TRAIL UPDATES:
We hope to have new information up at the Southern Vermont College kiosk sometime this month (YAY!), and we will be installing a few mini-kiosks. Over the fall we will continue to make some trail improvements closer to SVC campus, and are working on better signage to install at junctions, etc where we have permission. Stay tuned.
This weekend, we are working on a newer trail and are seeking your help to dig or blow leaves. Have a spare leaf blower?
Where do I find Maps and Trail information?
Did you know we have our updated map and trailhead locations on our website? WWW.BATSVT.ORG/TRAILS  We put urgent updates on our homepage/news page and on our Facebook page.
Did you know that you can find BATS and Bennington Area Trails on Trail Finder? WWW.TrailFinder.INFO 
Did you know there is a Bennington Townwide Trail Map? (Though please get more official trail navigating style maps for the trails that are on the Green Mountain National Forest…available at your local bookshop or outfitter).
Below is a list of Events or Volunteer opportunities for BATS and other great community organizations that promote trails or healthy and safe communities. There are 3 opportunities all on Sunday, so maybe flip a three sided coin:
THIS WEEKEND–>
8am-10am   Southern Vermont College 982 Mansion Dr, Bennington, Vermont 05201
Join Battenkill Valley Runners (BKVR) and the Bennington Area Trail System (BATS) on a beautiful 4 mile trail run on the BATS trail system. Led by Silvia Cassano, run from the SVC Upper Lot on the amazing trails around the base of Mount Anthony. Experience this hidden gem of Bennington!
A carpool will leave the Arlington Rec Park main parking lot at 7:15am, please let BKVR know if you want to carpool. Park/meet for event at the kiosk in the Upper SVC Everett Mansion Lot.
–VOLUNTEER: SUNDAY, 10/1, 9:30 am -12pm – BATS Trailwork and Leafblowing Trail Work Day!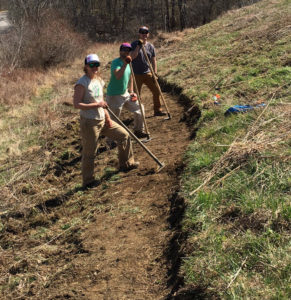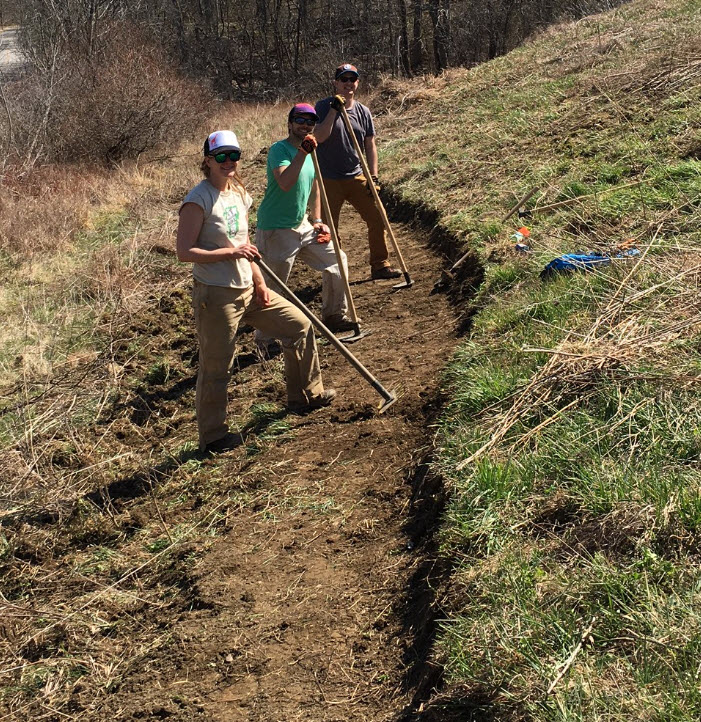 Meet at the Camelot Village parking lot at 9:30 am. We will be working on a new section of trail off of Halloween Tree somewhere below the lower beacon.
BATS will be holding trail work events on the 1st and 3rd Sundays of the month from 9:30 am -12pm now through the end of fall.  Like the trails on Mount Anthony? Please come join us and pitch in!
Wear appropriate footwear and clothing for trail work. Gloves recommended. Bring water, snacks, and your bike or running/hiking shoes for a ride, hike, or run afterwards! We have tools, but a few extras can come in handy. If you have a small folding saw, loppers, or digging tool (pickmattock, put them in your trunk in case we need them (Check out this list of the 25 best trail building/maintaining tools)!
Please note that any and all changes to the trail system on Mount Anthony must go through the Bennington Area Trail System first. We are a small, non-profit dedicated to building and maintaining sustainable trails. If you have ideas and want to help, BECOME A BATS MEMBER, or COME VOLUNTEER and talk to us about your ideas!
–VOLUNTEER: SUNDAY. 10/1
Just Bike! Justice For Kids- Volunteers Needed
Contact the Bennington Center for Child Advocacy for more details- volunteer form on their website or see more on their Facebook.
–VOLUNTEER- Sunday, October 1st – Battenkill River Duck Run
This is a 5k and 12k race with a kids 1k fun run! Reach out to Dara Zink to find out how you can be a part of this fun event that benefits Happy Days Playschool.
UPCOMING BATS Members/Trail/Recreation Supporters Wanted to Help/Volunteer Opportunities: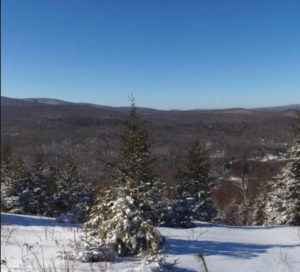 Their first big project is to re-open some of the ski slopes at the former Dutch Hill Ski Area in Heartwellville, VT.  They hope to re-open the Yankee Doodle slope this fall, top to bottom.  If they have time and enough volunteers, they'll also do some glading in the woods between the Yankee Doodle and the Dyke.
Bring your own favorite tool, or just bring muscles and be a "swamper" (someone who hauls brush into piles).  Note that we must adhere to strict Forest Service safety requirements. See their website for more information.
​Volunteers can't use a chain saw on Forest Service projects unless they have been through the Forest Service chain saw safety program.  Do you have an up-to-date certification?  We need you! Questions?  Contact us:  info@dhash4vt.org
Can't make it on Oct 8 but want to help at future events?  Drop us a line to have your name added to the email list to get announcements.  Click here.  And check back here from time to time.  We'll add events as they are scheduled.
–VOLUNTEER – Sunday, October 15- 9:30a-12p – BATS Trailwork Day
Meet at SVC Fieldhouse at 9:30am. Since it is now Archery Season, we will work on trails on SVC Campus
–VOLUNTEER- Sunday, 10/22- Wandering Witch Trail Run — hosted by the Battenkill Valley Runners
Christ the King Center in Greenwich, NY
This is a 5k & 10k on beautiful trails and benefits Greenwich's running programs. Reach out to Jen Kuzmich for more details.
– EVENT- Tuesday, 10/24 – Vermont Outdoor Recreation Economic Collaborative (VOREC) Regional Summit
6pm-8pm | West Mountain Inn, 44 W. Mountain Inn Rd, Arlington, VT 05250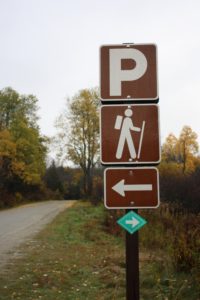 If you care about outdoor recreation in Southern Vermont we hope to see some BATS members/Bennington area outdoor recreation supporters in Arlington for this VT Outdoor Recreation Economy Collaborative Regional Summit.
For those who cannot attend an in-person meeting, an online survey will go live on September 12th on the FPR webpage at www.fpr.vermont.gov/VOREC ,   where you can also learn more information about this initiative. If you have any questions or need special accommodations, contact Jessica Savage, Recreation Program Manager at the Vermont Department of Forests, Parks and Recreation, 802-249-1230, Jessica.savage@vermont.gov.
---
Background about VOREC from our parent organization, the Vermont Mountain Bike Association, who helps us be able to build, maintain, and support volunteer work on our multi-use trails:
VOREC will be hosting seven regional summits to learn more about the public's perspectives on what the steering committee should recommend to the Governor as the next best steps for Vermont AND Vermonters. VMBA encourages you to attend as many summits as you can and to keep the following items in mind:
All types of recreationists are welcome in this conversation (ATVers, anglers, birders, hunters, snowshoers, equestrians, etc.)
Show up in force, be polite, patient, concise, and open to collaborating with new kinds of partners.
-VOLUNTEER- Saturday, 10/28 or Sunday, 10/29- Wicked Creepy CX Race at Willow Park (cx= cyclocross, a type of bike and race format)
Volunteers needed in larger numbers to set up the day before (10/28) from mid-morning to sunset to help setup/during race/pick up
The Wicked Creepy CX is in it's 11th year. Held at Willow Park, it is a really fun setting and a great community event. See the flagging, posts, and stairs in the photo? They don't just get there by themselves! Costumes encouraged. Races begin at 8:15 am and the last race starts at 3pm.
PLEASE contact Race Director, Tim Payne if you can help. payneposse@comcast.net 
The Wicked Creepy is part of the NYCross series. Learn more about this race below, or heck, go watch/race in a few!
https://www.bikereg.com/wicked-creepy-cyclocross-race-part-of-the-nycrosscom-series
AND LASTLY ! HUNTING SEASON INFO!