BATS members, volunteers, and community members, 
Hunting season for deer begins tomorrow (Saturday).
Many BATS Trails are closed to hike/bike/walking during this short window of time for hunting.
Please respect the trail closures as our partnerships with landowners are VERY important to keeping the trails open for all. It's the least we can do to respect when landowners are hunting, by closing trails for everyone's safety.
Closure signs are posted on the following trails (archery, rifle and muzzleloaders season):
-ALL trails south of SVC
– Snail Trail
-Lower Beacon
-Halloween Tree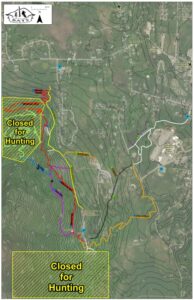 In the past, these trails have been open during archery season, but this year we were asked to close them. Please feel free to ask us if you are unsure on anything that maybe closed.
Share this with your friends that may not know!
BATS Trail Map for reference
Thanks you,
The BATS Board of Directors
—————–
Get familiar with the Fall Hunting Seasons in Vermont by checking the VT Fish and Wildlife website. OR download this PDF of the hunting seasons and pin it on your fridge.