BATS Board Members Jon Rowe and Silvia Cassano picked up their new, giant waterproof trail maps today to keep handy in their back pocket on their outings… Actually, they excitedly opened up some packages containing signage that GVH Studios produced for the Bennington Area Trail System. BATS is excited to get this important information up to increase trail user knowledge of the trails BATS maintains.
Over the next few weeks we will be prepping and posting this information in a few locations. Primarily at the kiosk at the main Mount Anthony trail head located at Everett Mansion/upper lot of Southern Vermont College. This kiosk information will be replacing the map that Jim Henderson of the Bennington County Regional Commission and a student lovingly produced years ago for the trail system and old logging roads on Mount Anthony.
The new information has a key and current map, which is on our Trails page of the website. The Trail User Guidelines and Tips are posted on our website under the Trails Menu.
There will also be a News/Trail Updates clear panel. Trail users should look at from time to time as it will have notices up that you need to be aware of as a responsible trail user.
There will be a two mini-maps with information as well. One will be at bottom of Hops and Vines at the base of the SVC Ballfield where Monument Avenue Extension passes by. There will be one at the woods edge of the "Garlic Fest Field" which is partially Vermont Land Trust Land and land owned by the Wassick's.
The next steps over the fall and winter are to update and reinforce our diamond trail blaze markers anywhere they may have blown away. We also are enlisting some volunteers to create and post some arrows and other way-finding markers, and some "You Are Here" maps at critical junctions. For the unmapped trails on the South Side of Mt. Anthony, we haven't signed anything other than entry points to trails. Use these trails at your own risk.
READ the Hunting Bulletin for specifics on where to avoid during hunting season. We like to be respectful of those that hunt Mt. Anthony and give them space since we can recreate there other times of the year. 
Share the Bennington Townwide Trail Map
Join BATS as a member or volunteer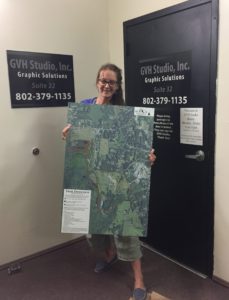 (see our volunteer work days in events!
#BATSvt