Is it a busy time of year or what? Next up is the Stark Street Pop-Up Park. THIS WEEKEND. June 16-17. 2-5pm both days. We will have a demo pump track and lead walks and rides on the trails. Please try to walk or bike to the event, or park at the hospital and walk down (sidewalk or trail).
https://starkstreetpark.weebly.com/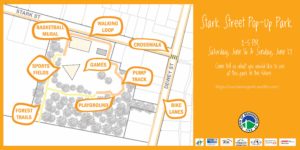 Parking will be available at:
The Town lot (behind the Putnam Building and Cilantro): 8-min walk to Stark St.
Elks Lodge (upper lev
el): 6-min. walk to Stark St.
Hospital: 5-min walk to Stark St.
There will be signs directing people to and from each of these lots.
:::::: #BATSVt #popuppark #BenningtonOutdoors#pumptrackplease #morebuttsonbikes#getmovingbennington #BenningtonVT