Saturday, September 29, 2018 – Ride Your Bike to the Bennington Farmer's Market Pop Up Event
Exercise, fresh air, and fresh local food! What's better than biking the farmer's market? The first 20 people who bike to the farmer's market (helmets encouraged) will receive a FREE maple lemonade from Running Brook Sugar Shack.  If you want to transport your bike to a couple of miles away, then ride the rest of the way, that's just fine.
A member of the Bennington Area Trail System (BATS) will be present from 10am to Noon with information on their multi-use trail system and raffle tickets. Enter to win a bike valued at $1,500 from Highlander Bicycle. Raffle proceeds will benefit the pump track project, scheduled to begin this fall, at the Stark Street Playground, which is a short bike ride away from the Market!
Wednesday Night Ride –
The Last two rides will be determined by weather and if we have a group leader. Please use FB or Group Me to organize impromptu rides! We may make a Riders of the Shires FB group similar to the ones the Berkshires folks use to gather more people into the fold that aren't regulars.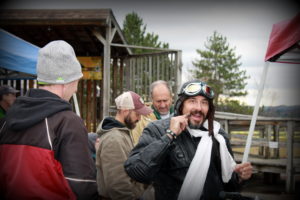 Volunteers Needed for Wicked Creepy CX Race at Willow Park. Race Day is Sunday, 10/28.
Volunteers needed Friday and Saturday for set up. Sunday event support. Oodles of fun every year!
— TO VOLUNTEER, email Tim Payne!—
End of Season Ride or BBQ? We will be possibly hosting and end of season ride when Harvest Brewing opens back up again. Stay tuned. Thanks Highlander Bicycle for being our rendezvous spot!
Want Most Up-to Date Updates? These will be posted either to the BATS Facebook, or relayed via our GroupMe App which we use for Group Rides and Trail Work/Events to round up you good folks.Only canceled if hazardous weather or no leaders available.
1st and 3rd Trail Work Sundays
Sunday, October 7
9:30AM-12:30PM
(leave earlier if you have to)
Meet at the kiosk at Southern Vermont College, 982 Mansion Drive
Tools provided, or bring your fave. Only hazardous weather will cancel. Dress appropriately and bring h20 & snack. Regular Vols will get a text alert via theGroupMe App or Facebook if last minute changes..
Trail Work Project Updates 9.26.18
-We have a relocation flagged by the Cave waiting for approval to avoid the gully, as it has lots of root exposure and a less than ideal slope. We also want to create a better option to get to the Cave. there is a big tree down there. Goal is to complete before snow sticks.
-We are working on a new trail between Ursa Way and the "Grotto" above the Cascades on our Trail Work Days. There was a ground wasp nest above the Grotto. Be warned!
-We have a volunteer working on flagging a beginner trail on the Unmapped trails South of the SVC Maintenance shed- PLEASE leave the flagging and DO NOT DIG anything. This is a concept plan right now!
-Lots of projects and a relocation slated for Spring. If you have ideas for things that need improvements, you are welcome to attend Board Meeting or a Social and talk to us about it!
More later! Thanks for all your help recently!
-Sign junctions mostly done for now. More at some point.
Log Your Volunteer Hours at https://rewardvolunteers.coop/ 
We hope to see you on the Trails!