Like the trails on Mount Anthony? Please come join us and pitch in! 9:30am-12:30pm on the 1st and 3rd Sunday's of the month.
THIS SUNDAY, July 15th. 9:30-12:30. Meet at Camelot Village parking adjacent to Fox Hill Drive off of VT 9 in Old Bennington.
Wear appropriate footwear and clothing for trail work. Gloves recommended. Bring water, snacks, and your bike or running/hiking shoes for a ride, hike, or run afterwards! We have tools, but a few extras can come in handy. If you have a small folding saw, loppers, or digging tool (pickmattock, put them in your trunk in case we need them!
*Please note that any and all changes to the trail system on Mount Anthony must go through the Bennington Area Trail System first. We are a small, non-profit dedicated to building and maintaining sustainable trails. If you have ideas and want to help, BECOME A BATS MEMBER, or COME VOLUNTEER and talk to us about your ideas! #BATSvt www.batsvt.org
PS: Have you got your ticket yet for a chance to win a gravel, mountain or fat bike? Tickets at Highlander or online. Bike will be courtesy of Highlander. New BATS members will get 1 bonus entry. All proceeds benefit the Bennington Area Trail System. 
Future Trail Work Sunday Dates/Info:
Sun, Aug 5, 2018
Sun, Aug 19, 2018
Sun, Sep 2, 2018
!Due to Garlicfest, we won't be meeting at Camelot this date!
Sun, Sep 16, 2018
Sun, Oct 7, 2018
Sun, Oct 21, 2018
May continue into November if ground is not frozen and people are still projects needing addressing.
Meet at 9:30 am at the Upper Parking lot at Southern Vermont College UNLESS otherwise noted in the weekly reminder posting. Check our News on the web, or Facebook for any updates. If you volunteer regularly, you will get a text alert via the GroupMe App.
—————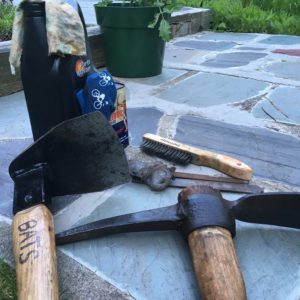 (Check out this list of the 25 best trail building/maintaining tools)https://bikefat.com/25-best-tools-for-trail-building/