Deer Season is upon us. Please respect the small amount of time hunters have in the woods. Some of the trails we maintain for recreation go onto property that is actively hunted during deer season, and have been signed and roped off at high-use entrances. Please respect the closures & wear orange! Safety tips and trail recommendations below.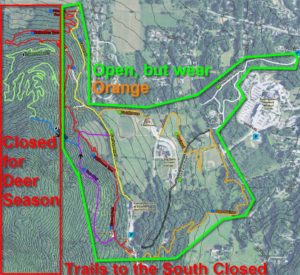 The following BATS Trails are CLOSED to Recreation
(biking, hiking, walking) during hunting season:
-Everything south of the Maintenance Shed at SVC
-Snail Trail (at top of Lower Beacon)
-Lower Beacon.
SUGGESTED OPEN TRAILS
Carriage Trail
Cave Trail
Everett Path
Fieldhouse/Mowed SVC grass paths
Old Farm Road
Hops and Vines
SVHC Trails/Hospital Trails
Map / Other Resources
–Trail map (PDF)
-Check out the more interactive map at TrailFinder.Info
–Bennington Townwide Trail Map & Recreation Suggestions
SAFETY TIPS
-Use recommended trails, or find alternative recreation site
-Wear blaze orange
-Avoid trails at dawn or dusk
-Leash your pet, give them an orange bandana or vest, or wear a bell/light
-Have a headlamp
2018 Vermont Deer Hunting Season Remaining
Archery | Dec. 1-9
Rifle Nov. 10-25  |  Muzzleloader Dec. 1-9
More at VT Fish & Wildlife