Southern Vermont College Trail Access Updates
---
(UPDATED 6/21/19) – During this time of transition with Southern Vermont College (SVC) and its property being held by the banks due to SVC closure, we will post updates regarding current trailhead access and parking on our homepage, News blog, E-News, and Facebook page, as access may change again. We will share a press release with an update if necessary.
Trail Access and Parking
1 -SVC Trails will remain open for the foreseeable future, however, these trails are temporarily CLOSED:
-Old Farm Road
-Carriage Trail from Everett Mansion to the Stone Platform which overlooks the fields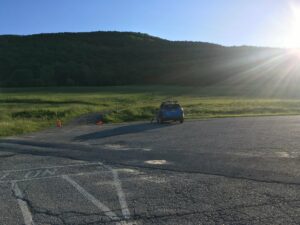 2-  Please park at the SVC Mountaineer Athletic Center closest to path up to field as access to the kiosk at the upper lot is currently closed. See Map for Location.
3- You may walk or ride up Mansion Drive or go through the upper fields, but please avoid the Everett Mansion.
*BATS has permission to mow a path up to The Wall through the upper field.
4- Trail users may have to check in with Security if present. Be respectful and express that you are there to use the trails.
5 -Please keep all dogs on a leash on SVC property.
---
Alternative Parking- Refer to our trail map for at www.batsvt.org/trails or find us on TrailFinder.Info's VT Trail database.
-Alternative parking is still currently available at SVMC (After hours advised so as not to take up regular spots) or the Camelot Village lot closest to Fox Hill Drive
-Downtown public parking- walk/run/ride to other trail access points
SEE COMPLETE UPDATE ON OUR NEWS PAGE, or scroll down for most recent blog post.
---
Going Forward 
Now that SVC graduation has past BATS expects that the mortgage-holders (banks) have assumed control of the campus. BATS has had ongoing discussions with both the SVC Board of Trustees and bank representatives doing everything we can to ensure that access to the trails is maintained. We are presently optimistic that we will be able to maintain access to the trails with little interruption and will pass along any updates as soon as they are available. As these events unfold, it is imperative for ensuring longer-term access that trail users behave in a responsible manner and respect the wishes of the landowner during any (hopefully) temporary closures and/or changes to access points that they request.
Nothing is more clear to us than the value this trail system has to our community, and how much potential it has. We have heard from many people who use the trails who are members and volunteers, as well as many who aren't our usual volunteers or members. We are and will be working to try and keep public recreation access open walkers, runners, hikers, bikers, nordic skiers, and snowshoers.
As we go through these difficult times as a community, we ask for your support. Reach out and volunteer, help out on trail work days, and join as a BATS member through the Vermont Mountain Bike Association.   #BATSVT
SEE COMPLETE UPDATE ON OUR NEWS PAGE. SCROLL DOWN FOR MOST RECENT NEWS/BLOG POSTS.